Welcome to another installment of our new series spotlight! I grabbed a few handfuls of new comic series starting this week, and gave them the ol' read through, bringing the best (and worst?) of this week's offerings to you, hot and fresh!
Generation Gone #1, Image Comics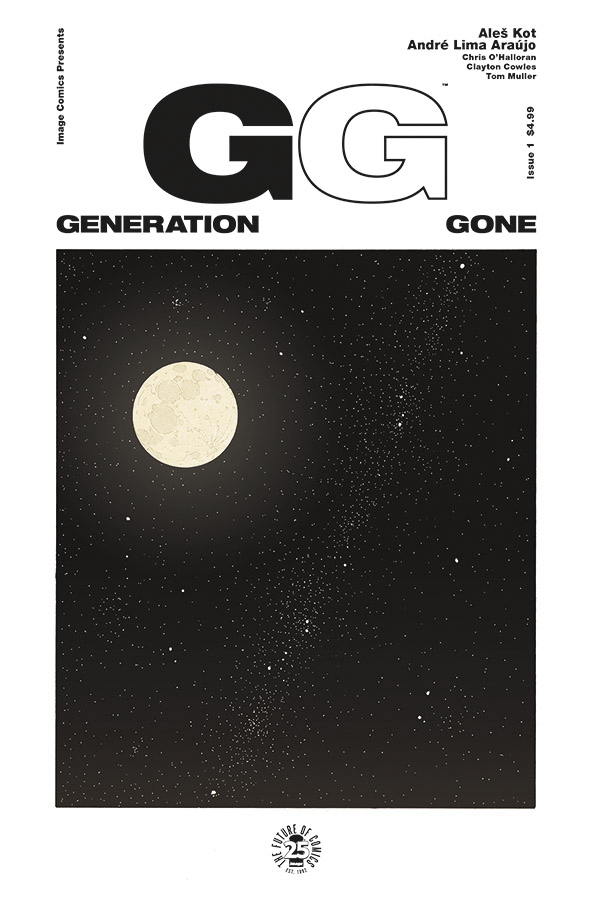 America, 2020. Three young hackers with nothing to lose. A secretive scientist with a plan. One final job.
What happens when you're poor, angry, and get superpowers you never asked for? Skins + Unbreakable = GENERATION GONE, sort of- if you also include multiple trips to the sun, weird black goo, a breakup fight inside a nuclear factory, love, hate, anger, loss...and survival. GENERATION GONE is for every kid struggling out there. It's about what it means to be young in the USA, 2017.
I wasn't sure what to expect from Generation Gone, but I actually ended up
liking it quite a bit more than I thought I would. The idea of kids ending up with unexpected superpowers isn't exactly fresh territory but I think GG pulls it off well, by focusing on the characters, particularly how they interact to each other, and how they live their lives when they're apart.
There are four main characters -- the main cast of the three kids, Nick, Elena, Baldwin, and a Japanese scientist working for a subdivision of D.A.R.P.A. whose scientific research is wholly underappreciated by his superiors. While he's building insane tech (think mechs) for military application, his passion project is a code he believes he has uncovered that can activate latent superpowers in our genetic codes, building a bridge between the known (science) and the unknown ("magic"). Then there are our three teen heroes; longtime best friends and hackers, practicing to pull off a bank heist that will lift them into a better life.
Nick and Elena are in a relationship, with Baldwin as their third man, and right from the get-go the comic wastes no time letting you know Nick is kind of a shit -- he plays toxic mind games with Elena manipulating her feelings for seemingly no other reason than his own gain. However he seems to be kind of the "charm" of the group, the one who is laid back and most likely to make a joke. Elena is hardworking, pulling down multiple jobs to help cover costs of her mother's medical treatments from what we assume is cancer. Baldwin is another black youth just trying to live his life in a world that isn't shy about the fact they'd shoot him as soon as look at him. He's an intelligent, dedicated leader.
These are the players in a story about not just science and technology but the complexities of interpersonal relationships and what people do when they feel backed into a corner and with no other choice. This issue is big, with lots to take in, and I also dug the art. Check it out if you like We Can Never Go Home and/or anything with big robots.
Moonstruck #1, Image Comics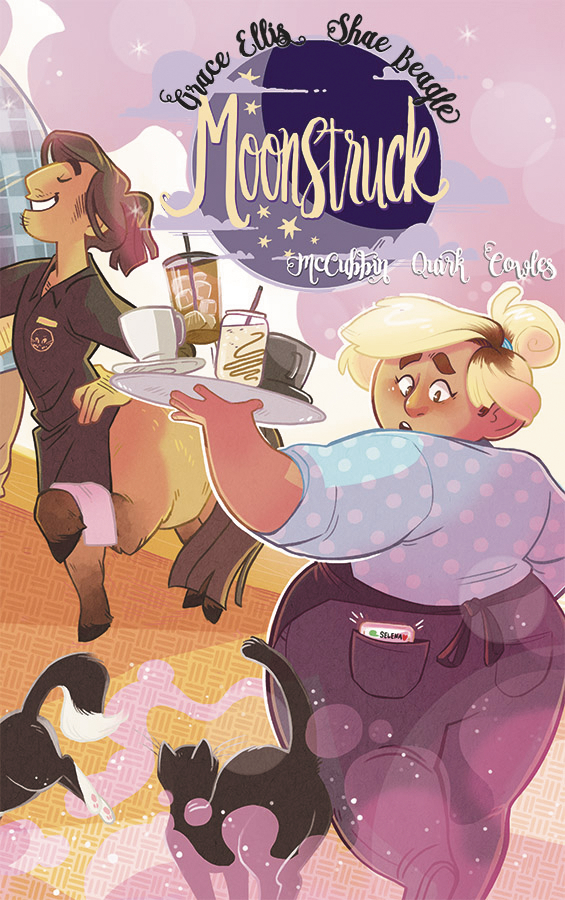 A NEW ONGOING SERIES from Lumberjanes creator GRACE ELLIS and talented newcomer SHAE BEAGLE that tells a story of monsters, romance, and magical hijinks! The first arc also includes an additional short story with artist KATE LETH! Fantasy creatures are living typical, unremarkable lives alongside humans, and barista Julie strives to be the most unremarkable of all. Normal job, normal almost-girlfriend, normal...werewolf transformations that happen when she gets upset? Yikes!
But all bets are off when she and her centaur best friend Chet find themselves in the middle of a magical conspiracy. Will Julie and Chet be able to save their friends? Is Julie's dogged determination to be normal a lost cause? Who's going to watch the coffee shop while our heroes are out saving the world?? These questions and more will be answered in MOONSTRUCK, coming July 19 from Image Comics.
Moonstruck is probably my favorite of the books out this week. The vibe is somewhere between Lumberjanes (which makes sense) and Giant Days, but with more monsters and mythological creatures. Our lovable heroine, Julie, is a cute girl trying to get a second date with another cute girl, and live her life as normally as possible - or as normally as you can when you're a werewolf, you're best friend is a centaur, your neighbors are extremely rowdy band-mates and a seer at the rival coffee shop just prophesied some pretty heavy stuff right before your very eyes.
The art is charming, in some panels evoking Steven Universe or Adventure Time-style character reactions, and I love the color palettes used. I also appreciated the diversity represented, from different skin tones to body types, to multiple queer characters. This isn't a heavy story trying to tell you something about like...violent crimes or politics or something, it's just...pleasant and delightful. What can I say, it just did something for me? Plus, I loved the special features in the back of the issue, including interviews with different comic pros, a feature where you can write in for advice from different citizens of the town, character designs and doodles by the artist, and fan art! I recommend this comic for folks who like coffee, baby witches, and baby gays.
Sisters of Sorrow #1, Boom! Studios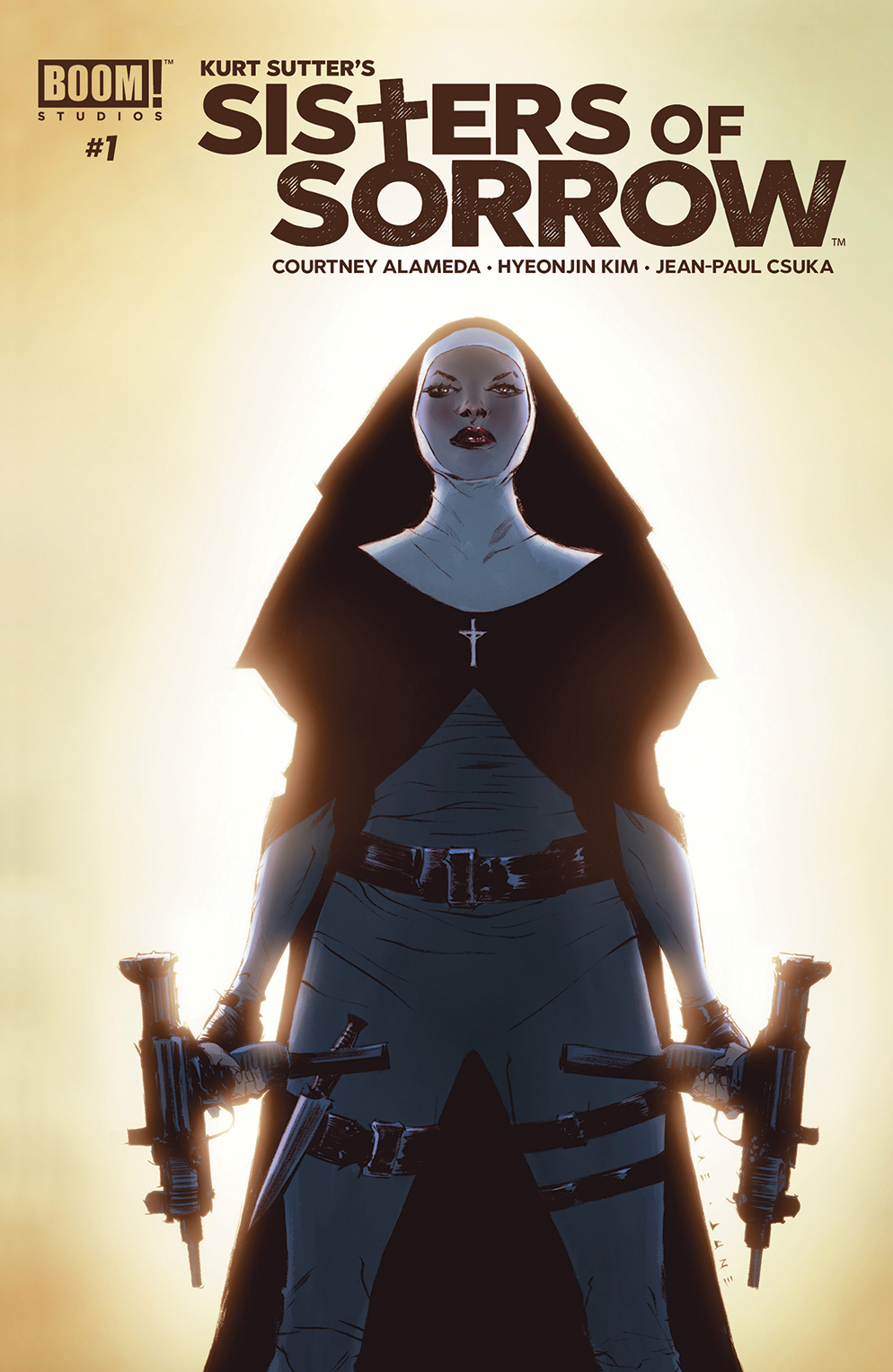 Kurt Sutter (Sons of Anarchy, Mayans MC) brings this all-new original tale of revenge and recovery to comics with novelist Courtney Alameda (Shutter) and breakthrough artist Hyeonjin Kim.
By day, Dominique, Greta, Misha, and Sarah run a nonprofit women's shelter. At night, they each don a nun's habit and move through Los Angeles hunting down violent abusers who have escaped justice.
Their increasingly public vigilantism has earned them the nickname Sisters of Sorrow, and has drawn the ire of L.A.'s notorious anti-crime task force.
By day, Dominique, Greta, Misha, and Sarah run a nonprofit women's shelter. At night, they each don a nun's habit and move through Los Angeles hunting down violent abusers who have escaped justice.
Their increasingly public vigilantism has earned them the nickname Sisters of Sorrow, and has drawn the ire of L.A.'s notorious anti-crime task force.
The first issue of Sisters of Sorrow sets up the story that's to come, and it's both fast-paced and violent. The story follows 4 women residing in a home for those escaping domestic violence, who witness the murder of one of their own when her abusive husband finds her and tries to take her back home "where she belongs". Trying to save their friend, one of our sisters, Misha, shoots the husband point blank, forcing the girls to find a way to cover up their crime, which they do with the help of Sister Greta's real life brother, who not only helps them stage the incident as a murder-suicide, he continues to train them.
Things go sideways when Sister Dominique's ex-husband is acquitted of the charges against him that would hold him accountable for the death of their young daughter, and Sister Sarah encourages Dominique to follow up on her vow that she'll kill him for what he's done.
This is a revenge story through and through, and while I really like the concept itself, I do think there's something a touch iffy about having a man write a revenge story about battered women. Not that he does anything disrespectful or wrong, nothing like that jumped out at me, it just seems that this is the kind of story that might benefit from the voice of an actual survivor. That said, again, I did enjoy it, and I also appreciated that the cast is majority POC, with the only two white main characters being Greta and her brother Eli, particularly as women of color are disproportionately affected by domestic abuse.
I really liked the art by Hyeonjin Kim, and was surprised how there managed to be times where the art looked almost like manga (particularly in the faces of the female cast)...but also not like manga at the same time. I might check out further issues of this, but I don't know if I see this something I'll continue to read in the long run. Recommended for fans of John Wick and Kill Bill, or a good revenge story in general.
Catalyst Prime: Superb #1, Lion Forge Comics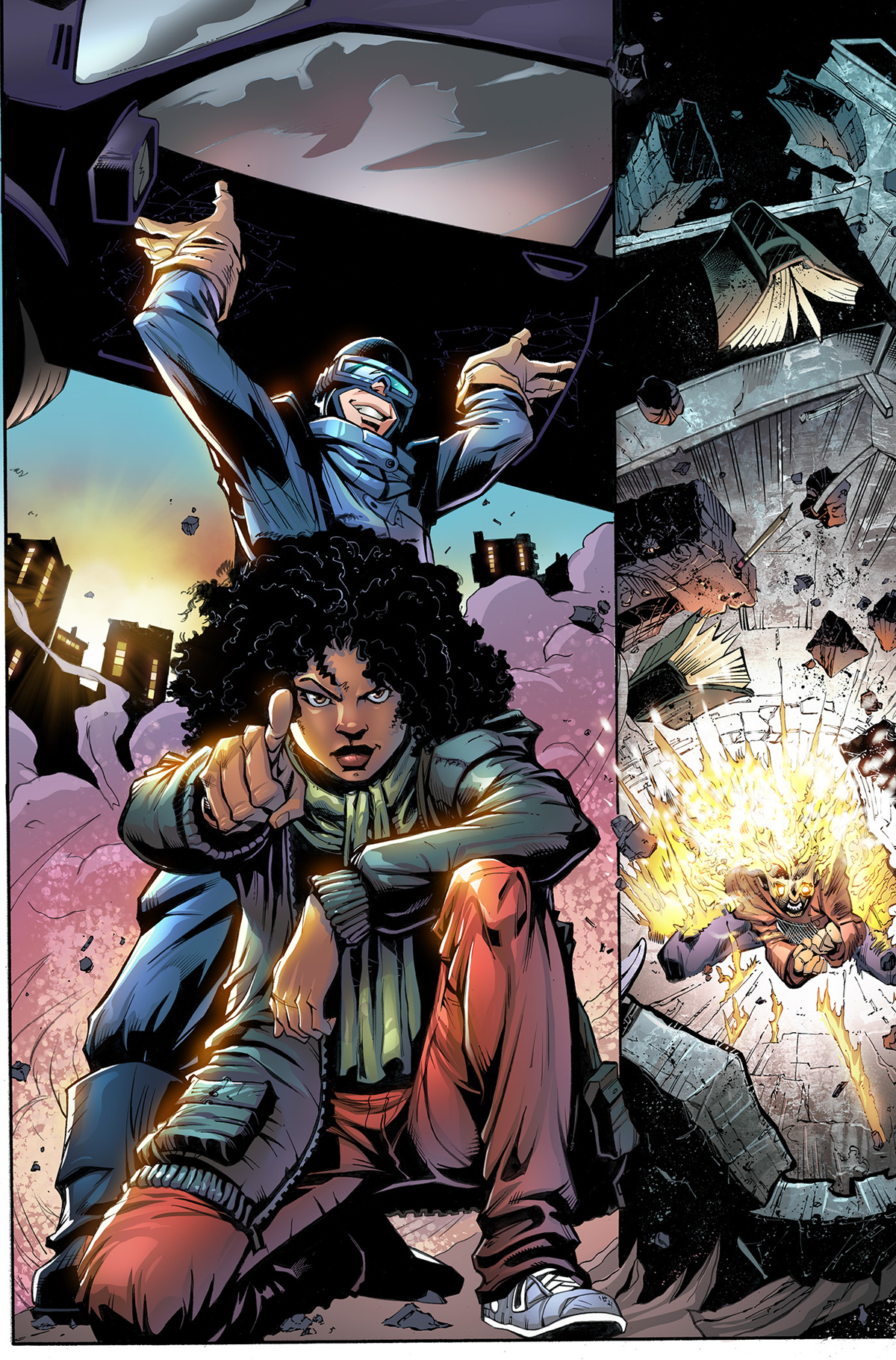 Teenager Kayla Tate is forced to move back to her hometown Youngstown, Ohio, an "Event" designated Level 5 impact zone. Compared to her new life, returning to Youngstown is a step backwards. She has a strained relationship with her childhood friend, Jonah Watkins, school is a nightmare, and everyone is talking about the mysterious superhero and Internet sensation, "Cosmosis", and his nighttime battles against the supposedly
(Note: the preview blurb I used ended suddenly, I don't know if that is the fault of the site or the publishers, but it was not an error on my part- Miramay)
Superb is the third in the Catalyst Prime series launched by Lion Forge, the first being Noble and the second being Accell. The Catalyst Prime series represents small publisher Lion Forge's attempt at establishing a superhero universe of its own.
At the store I work at, Noble caught us a bit off guard, with people calling ahead and asking for it days in advance, and us selling out of all the copies we did order - to be fair, the order we placed was small, because we weren't expecting the kind of buzz this book would generate.
Accell has been a little more of a slow burn, selling smaller numbers, so I'm interested to see where Superb lands in comparison to the other two, considering that it's gotten significant media attention beforehand. Why, you might ask? Because it features a main character with Downs Syndrome. This is well in line with the other titles in the Catalyst Prime series, mostly focusing on, and being written by, minorities, especially people of color. For example, the writer of this book is well known for her scholarship in comics and was the first Black woman to win an Eisner award. Also, the team on this book collaborated closely with the National Down Syndrome Society (NDSS) during its creation.
All of this has lead to a lot of sites hyping that this is the first comic to feature a superhero with Downs Syndrome. Except, in researching and writing this, I found an interesting article that elaborates that actually, it isn't -- which I found very thoughtful and interesting.
But you came here because you wanted comic reviews, right? Well here's what I'm getting at: Superb is good, but not great. The story is, honestly, very standard. It isn't bad, but doesn't really stand out to me. But what I am telling you is why it's important, why people are reading it, and why the media cares -- because this is a book about representation of those with disabilities and women of color first and foremost.
Astonishing X-Men #1, Marvel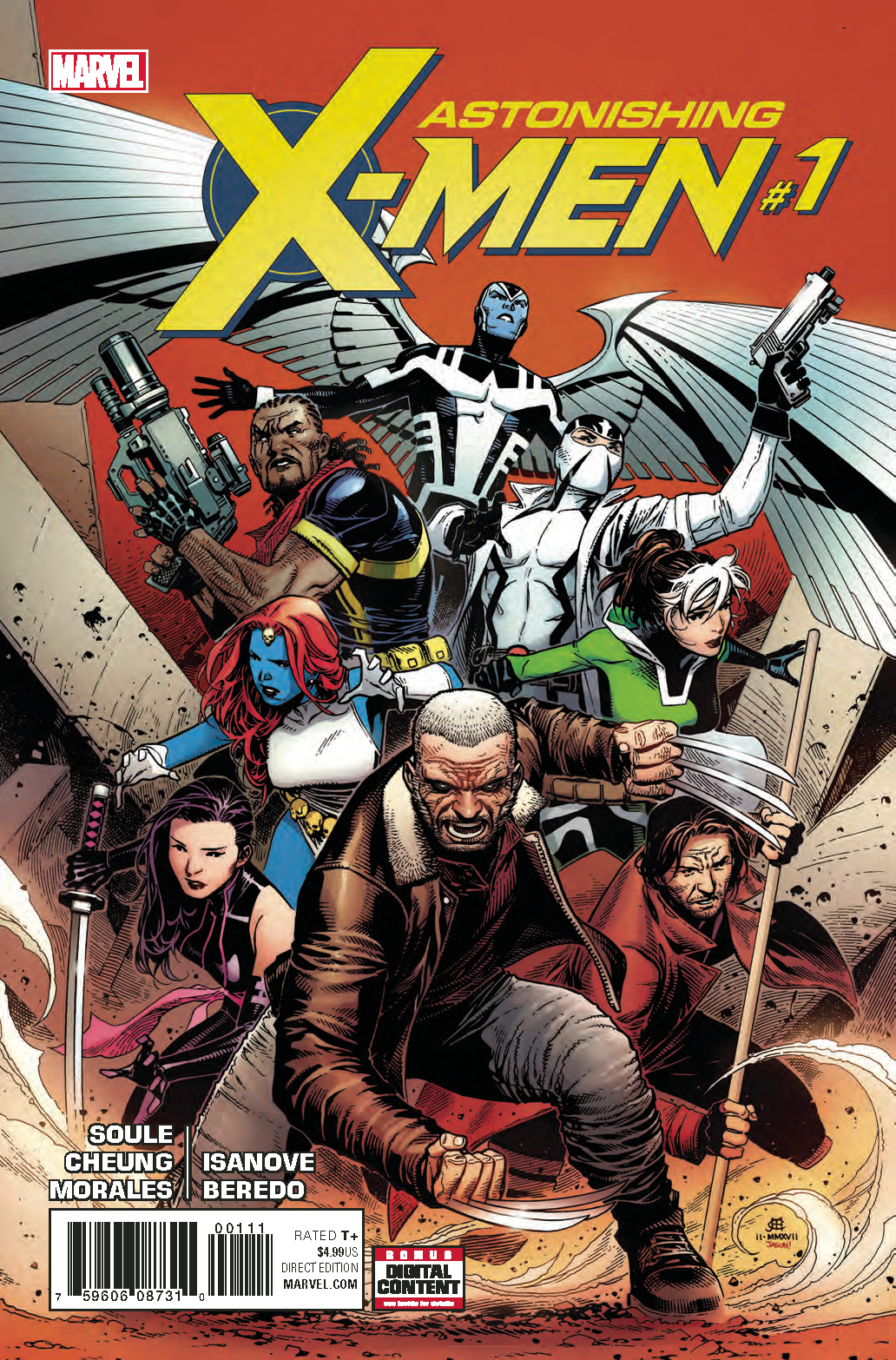 ONLY THE X-MEN CAN SAVE US!
An ancient evil is attacking the world's most powerful minds. It will have them by the time you finish this sentence, and a moment later, it will have us all. A band of X-MEN discovers the truth behind the threat, but there is no time left. PSYLOCKE, OLD MAN LOGAN, BISHOP, ARCHANGEL, FANTOMEX, ROGUE and GAMBIT will attempt to save a world that hates and fears them. Why? BECAUSE THEY ARE THE X-MEN.
From blockbuster writer CHARLES SOULE and joined by a roster of superstar artists beginning with JIM CHEUNG. ASTONISHING X-MEN. It's the X-book you need.
Astonishing X-Men is the most recent new X-title rolled out by Marvel this summer, along with X-Men Gold (following Kitty Pryde carrying the legacy of Charles Xavier), X-Men Blue (chronicling the adventures of the time-displaced original X-Men), Weapon X (dangerous mutants in dangerous situations) and a handful of both new and ongoing solo titles (as well as the already in full swing Weapons of Mutant Distruction crossover with the Totally Awesome Hulk - Marvel sure works fast, don't they?) Of the titles listed above, THIS might be my new favorite.
I'm subscribed to X-Men Gold currently, and while it's fine, as the series have gone on, I've really come around to Blue Team but Astonishing X-Men is a new contender. The story is fast paced, and sets the stakes early - psychic mutants everywhere are being attacked, and when they set their sights on Psylocke, she calls for backup, and a host of brand-name mutants respond to the call. I won't pretend I'm not biased here, Psylocke is probably my favorite X-Man but I feel like sometimes she's a hard character for people to get right, particularly when over time she's become sort of the butt of a joke, for how many romantic partners she's had (but we're not gonna talk about what a whiny player Scott Summers is, right?) However, I'm hopeful that this story might actually be able to address some of her past affairs without beating a dead horse, and give her a great opportunity for character growth.
I love seeing Rogue and Gambit on a team together again, and with Logan no less (not quite the same as Wolverine but you take what you can get), and I'm really digging the team chemistry. I don't want to spoil too much, but I really do think this has the potential to be a real fun X-title,among some shockingly strong X-Men fare, considering how completely lackluster many of the series' involving them have been over the last few years. I recommend this for fans of Reminder's Uncanny X-Force run!
And that's this week's comics! Thanks for stopping in! If you feel so inclined, I'd love to hear what you're reading, or what you thought of these or any issues, in the comments! I hope everyone has a great rest of their week!