Gosh I can't believe it's October already! I took a week off again to prepare for NYCC, which I attended for all four days and thoroughly enjoyed (although my lingering state of exhaustion and bank account might beg to differ!) I'm back, it's mid-October, and I'm here to bring you five new comics coming out this week! I will make the disclaimer that I'm leaving out two titles, which I'll address briefly at the end of this article, but for now let's jump right into what's new this week!
Atomahawk #0, Image Comics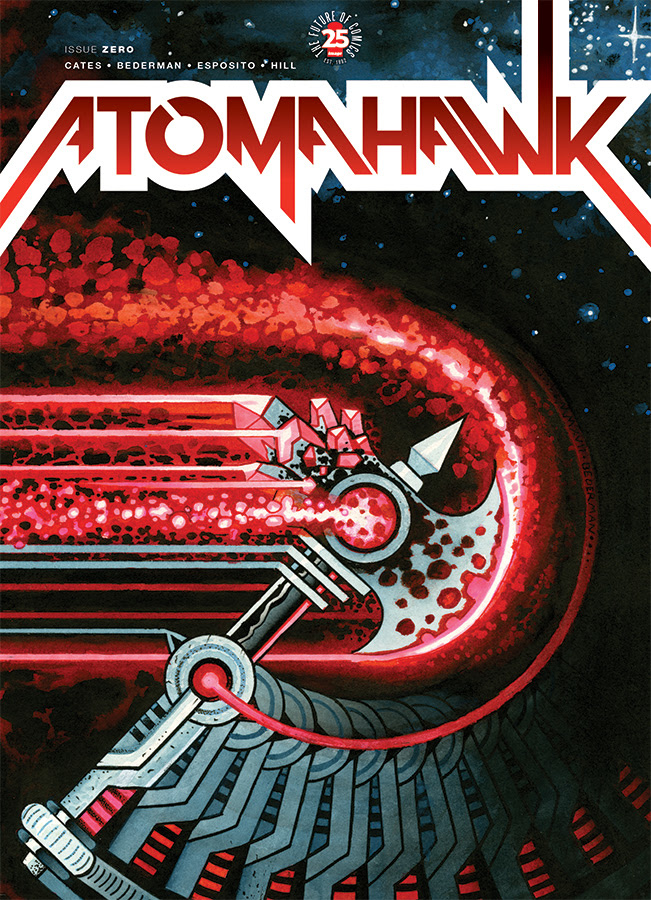 Behold, puny earth things! A deluxe, oversized collection of the story originally serialized in Heavy Metal magazine, this is the complete adventure of the Cyberzerker and his mighty Atomahawk! Join them on their quest to free their imprisoned God, and find out why GRANT MORRISON calls it: "A screaming black hole feedback squall of death metal Kirby-kozmik energy spinning straight towards your prefrontal cortex. DONNY CATES and IAN BEDERMAN forge a stylish, super-heavy 21st-century mythology of blood, sentient steel, and rebel circuitry. A razor-nova of explosive writing and searing visuals that bury themselves deep in your skull. ATOMAHAWK REX!
So this is, by far, my favorite new comic this week. And if the text above is to be believed, and this is all of it that we ever get, I'll be supremely disappointed. Atomahawk is a barbarian story, complete with a bloodthirsty axe-wielding hero, mad kings, warring armies, gods and monsters. However in Atomahawk, the deep space mountainscapes are coated in chrome, crystals are highly coveted power sources and man and beast alike are more than a little machine. Atomahawk traverses the galaxy searching out answers about his missing god, and will stop at nothing until he is able to free him from whatever prison holds him. The fixed color palette and heavy lines emphasize the solid art, which looks amazing and is more than a little fitting, given artist Ian Bederman's history as a tattoo artis. The issue's oversized magazine-style presentation only further accentuates the art, and allows you to really take in all the detail and gore. Atomahawk is short and sweet, but honestly I couldn't get enough of its 1980s cybernetic metal vibe, and hope there's more to see. As a bonus, between each chapter, there are dozens of concept sketches and real life photos of folks with Atomahawk art on their bodies, which only makes me hope more that this universe continues to come to life in further comics. Definitely give this one a read!
Dan Dare #1, Titan Comics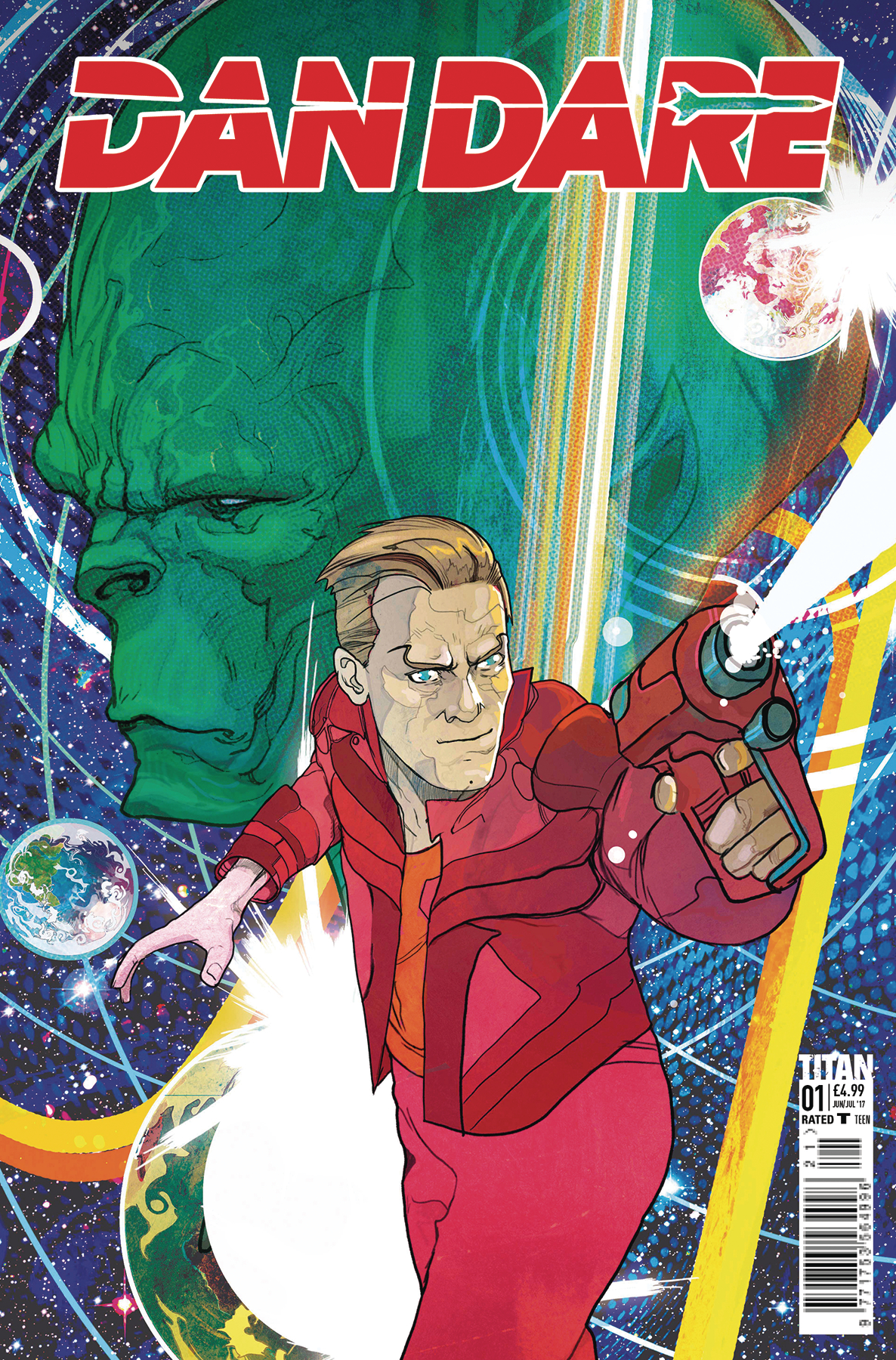 The classic British hero returns for brand-new adventures, written by Peter Milligan with art by Alberto Fouche! Featuring cover by superstar artist Christian Ward (ODY-C, Black Bolt)! For the first time in human history the Sol System is at peace. Poverty and famine have been eradicated and humanity stands on the cusp of utopia. The Mekon -- mankind's deadliest enemy -- has been vanquished and languishes in a maximum security prison deep inside the Moon and Dan Dare, pilot of the future, is bored out of his mind and praying for something to break the monotony of peace.
However, when an unknown alien vessel of biblical proportions arrives in the solar system and obliterates a moon of Saturn in a show of strength, Dare finds himself drawn back into a new adventure that threatens not just Earth but of all life in the entire universe!
You don't have to be a fan or, or even well versed in, the original Dan Dare series' to enjoy this new incarnation. As long as you can imagine Dan Dare, or any other benevolent superhero-type figure, and a braniac alien villian, you can follow along. Because this story isn't really about Dan Dare so much as it is how our most beloved heroes would really react if the greatest threats were eliminated, and world peace were to finally be achieved; imagine Batman without the Joker. Because at its core, I think this is a story about how many of our classic heroes are just as broken without their trademarked villains, how empty they can be, and also how quickly a character can cast aside interest in its heroes once they are no longer necessary. Worth a pick up for fans of Buck Rogers-style sci-fi cantasy stories.
The Family Trade #1, Image Comics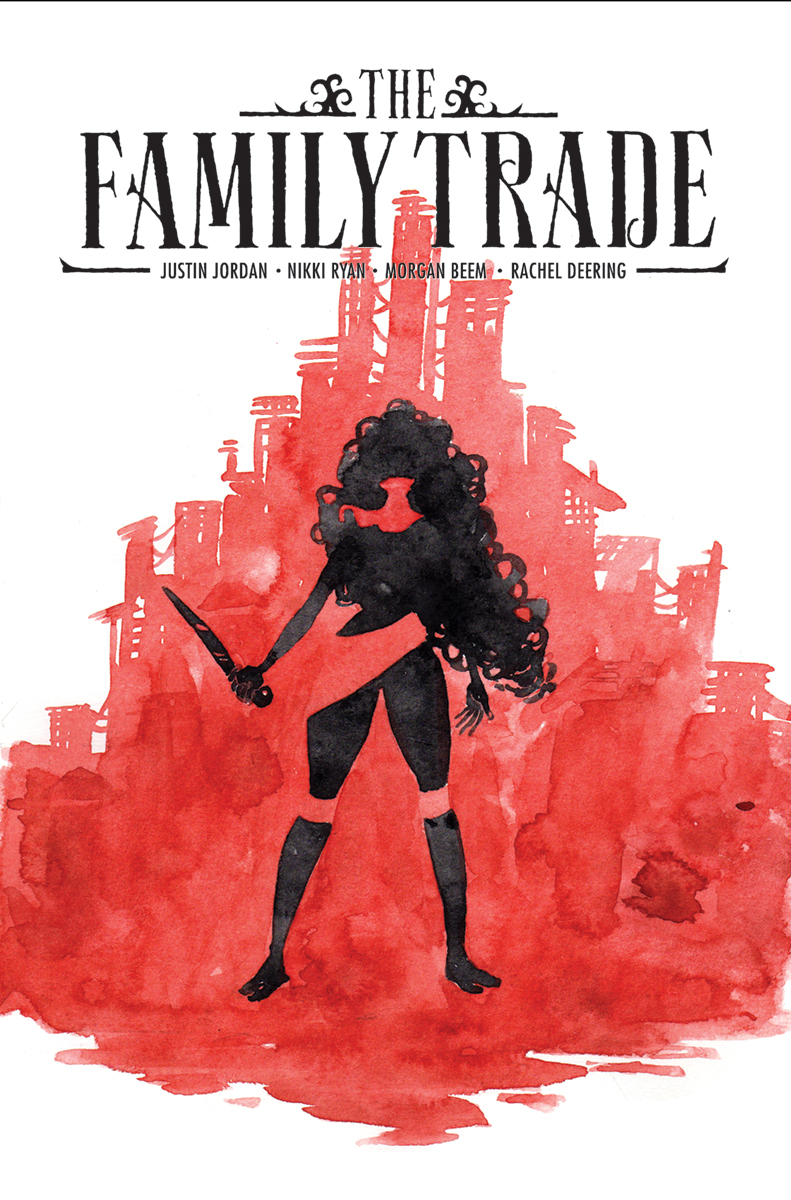 "THE FAMILY," Part One
Introducing an all-new ongoing series from the creator of LUTHER STRODE, SPREAD, and DEAD BODY ROAD!
Steampunk, alchemy, and adventure meet the ocean. On an island city in a world where history didn't quite turn out like ours, a hidden family of spies, thieves, and assassins makes sure that the world keeps going. Or they did, until Jessa Wynn, their youngest member, manages to start a civil war.
The summary provided above does a really good job of succintly and accurately describing the story of The Family Trade, but what it doesn't quite translate is the vibe that this book gives off. A combination of the plot itself mixed with the watercolory art gives the whole book a sort of waterlogged feeling, appropriate give the island setting; as well as making everything feel as fluid and malleable as the shadows that our heroine, Jessa, slides through every night. I am interested in learning more about the politics of this nation function, particularly as the main villain (at least of this first issue) seems to be a fairly restrained reference to our own commander-in-chief here in the states. Seeing how the families that control the island react to him (as well as how they function with each other), and learning about the history of the setting, really draws me in - I'm interested in this world. Plus I love the way cats are included in this story, almost like the cat species of Monstress, but with less actual speaking of English; however, they do talk about speaking "cat" as if it's a thing people might be able to learn. I hope cats have an important part to play in this book. All in all, it's an interesting story about assassination and magic, beautifully rendered, and seems promising.
Fighting American #1, Titan Comics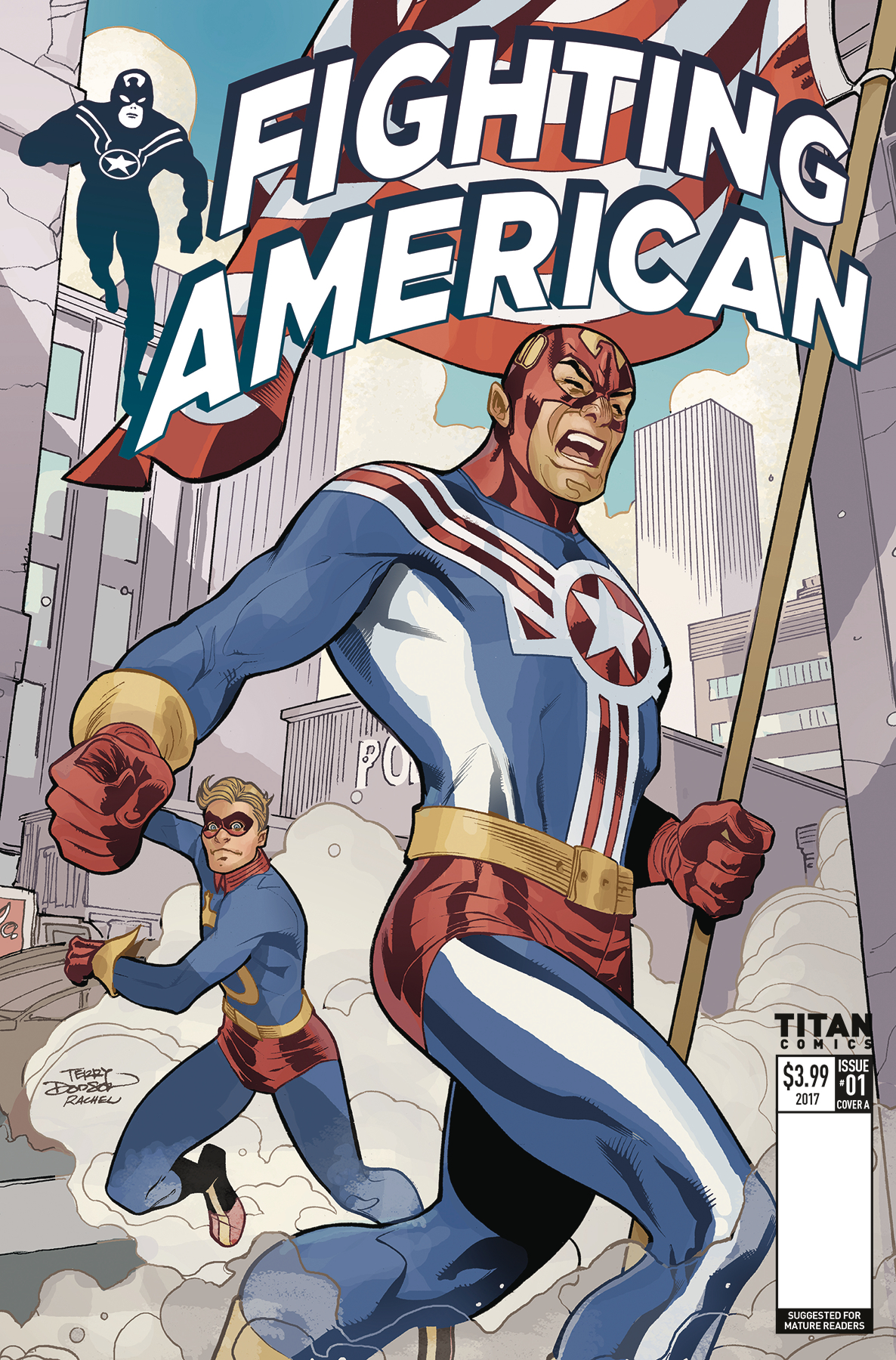 Direct continuation of Simon and Kirby's classic series! Fighting American returns!
Written by Gordon Rennie with artwork by Duke Mighten, with a cover by Terry and Rachel Dodson!
When the 1950s heroes find themselves trapped in the modern world, how will they handle what society has become, and what dangers will they face?
With modern-day villains to contend with, enemies from their past pursuing them, and a whole new world to come to terms with, what daring adventures could Fighting American and Speed-Boy find themselves in now?
I wonder if it was coincidence or intentional that this week Titan Comics released two revitalizations of older series with similar retro vibes. However where Dan Dare seemed to be taking an approach with a sort of metanarrative about the nature of our comic book heroes, I feel like this is a more standard time travel story about classic heroes transplanted into a modern age. However, this has the benefit of picking up directly from a decades old story, which I think is actually pretty neat. There's nothing amazingly standout about this story, although I did think the twist at the end was interesting (if not completely surprising). The art in this book is also not to my taste; I found it inferior to that of Dan Dare and almost wished they had traded books; I think the art here might have provided something of an edge to the sci-fi story. It's especially notable as the cover art is by Terry and Rachel Dodson, who I adore, so it might have skewed my opinion of the interior art. Overall this is fun and interesting but I'm not likely to pick up another issue. Again, great if you love retro hero stories, and especially if you love Simon and Kirby. Otherwise you might be able to pass on this one.
God Complex #1, Image Comics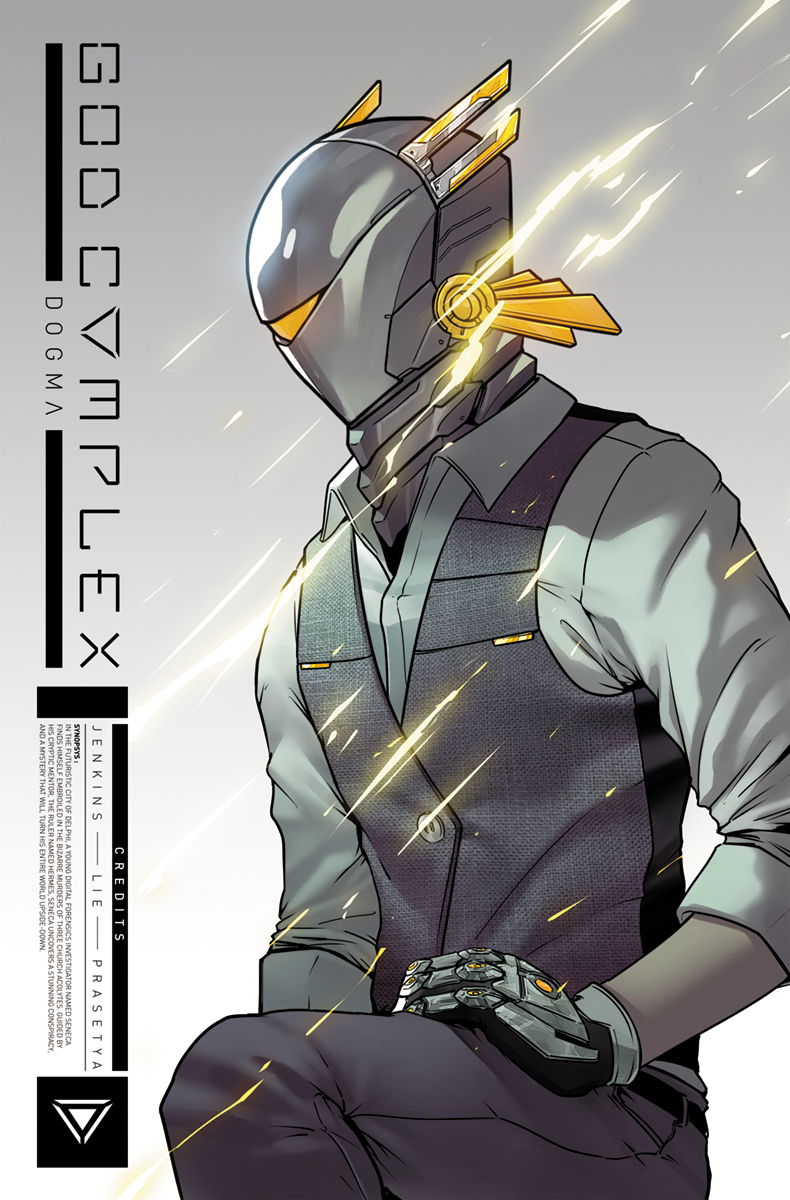 In the futuristic city of Delphi, a young digital-forensics investigator named Seneca finds himself embroiled in the bizarre murders of three church acolytes. Guided by his cryptic mentor, the Ruler named Hermes, Seneca uncovers a stunning conspiracy and a mystery that will turn his entire world upside down. From writer PAUL JENKINS (Inhumans, Wolverine: Origin) and artist HENDRY PRASETYA (Mighty Morphin Power Rangers) comes a unique vision of a digital future powered by mythological gods.
I will be completely honest with you. I don't have much to say about this book. I was drawn in by its sleek and attractive cover art, but after reading it, I found that it just didn't do it for me. It has a lot of story elements that might otherwise be really interesting to me - how do murder, gods and technology mix? But honestly this story tried to load itself down in its own mythology and technojargon so much, it was difficult to decode what was really supposed to be going on. I get the feeling that it almost wants to be The Wicked & The Divine but with more computers, and even the character on the cover, Hermes, bears a striking resemblence to Woden in WicDev (or at least he does to me). I do think this book could easily appeal to someone, especially people who like to get lost in high sci-fi worlds, but I don't think I'm one of those people. However, if any of what I've said above appeals to you, I'd say check it out. I think it's obvious that the writer has high aspirations for what he's trying to pull off, so it isn't a lack of substance at play here, I think it's just almost trying...too hard for me.
That wraps it up for this week's new comics! I did intentionally skip two things here, as I mentioned above. One is Ragman, the other is Gotham City Garage, both from DC Comics. Ragman was fine, and though it had awesome cover art, it didn't leave much of an impression on me, and as it is a limited miniseries, I opted to skip it this time. And Gotham City Garage I'm skipping on principle - DC Comics is relying heavily on their collectibles right now, and just turning fanart and statues into a comic franchise honestly seems in bad taste to me; what's more, the statues these comics are based on (specifically the Gotham Garage ones) are, in my opinion, a ripoff, being overpriced for their size and overly fragile. I don't want to support that kind of business practice.
For the rest of the month of October, I want to focus on my favorite horror comics, so please join me back for this regular(ish) feature in November! Til then, stay spooky and support your local comic shop! See ya!