Hello all! As you may have noticed, we took a week off to perform necessary site maintenence, but we're back and better than ever! Or actually, mostly the same. Anyway, this week, there's a heaping stack of new comics to talk about, so I'll try to keep each review somewhat brief. However, I'm excited; a lot of these are indie or small press books, many of which I feel are exciting and deserve your time, so get ready!
Adventure Finders #1, Antarctic Press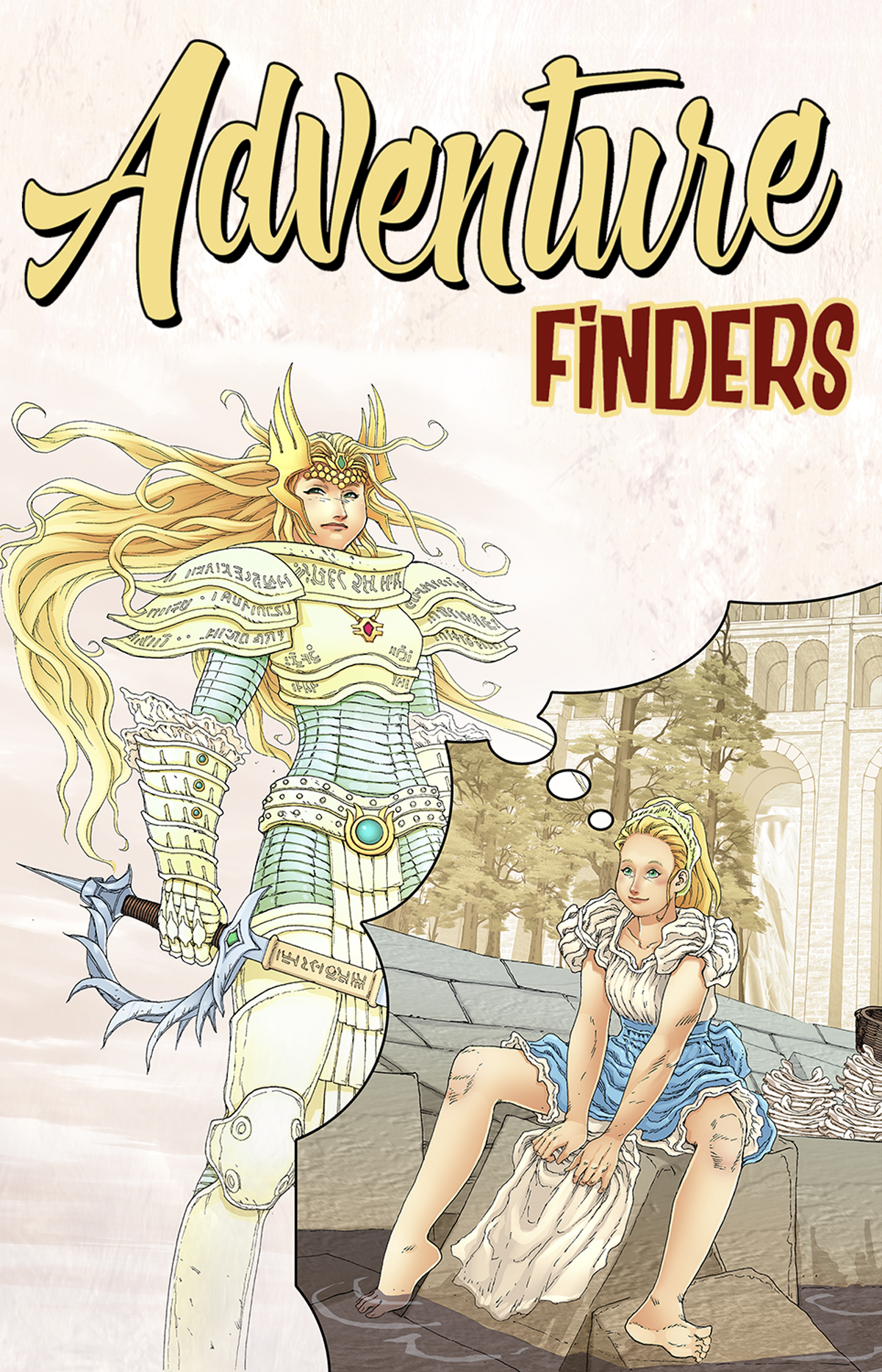 Fantasy master Rod Espinosa weaves an action-paled story of a small-town girl and her friends who want to make it big as renowned fighters! Clariette: part Barbie, part Xena, and all heart, out to make the world a better place. Ariarra: Pragmatic wandering cleric and healer, fiercely independent. Jolfe Endarion: Clari's cousin, an apprentice wizard with a love of adventure and good food. Together they set out in an age of constant warfare, across a world ruled by a monolithic empire, to battle enemies and monsters, make allies, save people in trouble, and find adventure, starting here in this gorgeous, epic, double-sized first issue!
The first copy of Adventure Finders packs in a lot. It introduces us to spirited Clariette, who works for her family's fish stall. She seems well known and well liked by all, for her beauty as well as her kindness. We're introduced to her with a scene that reminded me a good bit of the first scene of Beauty and the Beast, with Belle walking through the town. However for all her cleverness and beauty, she's also stubborn and brave; being unafraid to question authority figures and tumble with poisonous beetle creatures. Clariette is, in my opinion, a sincere and likeable main character, full of heart, and her dialogue and relationships with her friends and cousins rang true and relatable to me. The narration and setting all feel very much like a real adventure RPG game, which really appealed to me. The art wasn't my favorite, but it really worked for the story being told here, and I absolutely enjoyed how everything came together in the telling of the story. I was very pleasantly surprised with this issue, and look forward to more.
Arya #1, Antarctic Press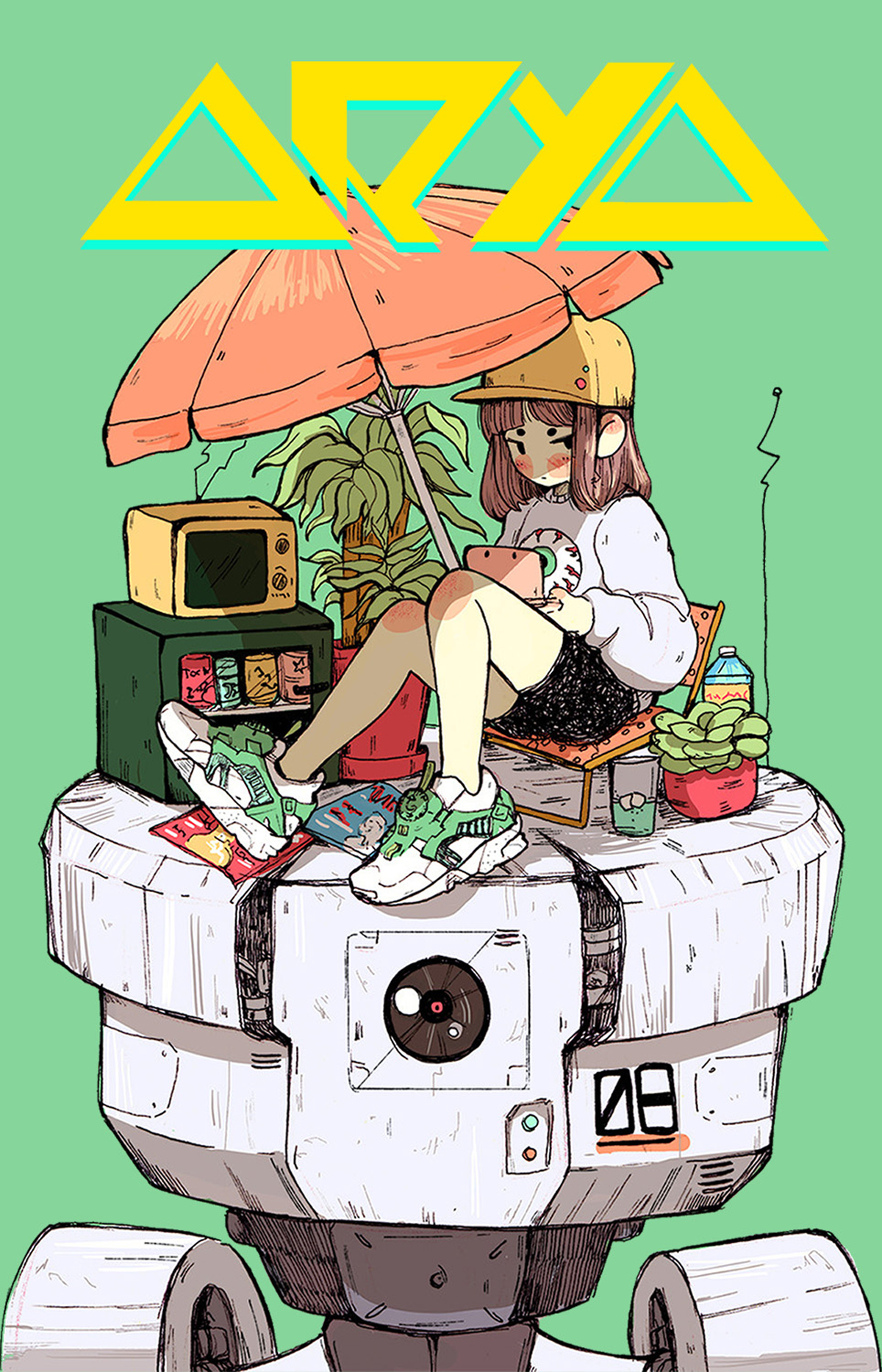 Antarctic Press proudly presents a shining showcase of new, strong female talent, with something unique and wonderful in every issue! On her way to get groceries, Anais is magically transported to a very strange world, where the only way home is to find the items on her shopping list. Meanwhile, Emi discovers new classmate Helen shares her passion for the handheld game Adventure Quest XXI, so they form a party-both for real and in the game-questing together in the name of teamwork, friendship, and XP!
I honestly loved this comic; It might be my personal pick of the week. I love a good anthology comic, especially if it's female-driven. In the past, my favorite has been Sun Bakery by Corey Lewis, who is admittedly male but the majority of the stories included had been lady-centric, and his take on sci-fi and fantasy paired with his art style are awesome. However, Arya is great because not only is it a comics anthology displaying female talent, they're all fresh faces of up-and-coming artists you'll definitely want to know. This issue featured two short stories, as well as cover and insert art, for a total of three artists. The first story, about two girls bonding over their love of a fantasy videogame honestly warmed my heart and the second story was incredibly charming as well. The covers and insert art add sci-fi flair to the rest of the issue, making for a modern, stylish fully readable and lovable little anthology. I can't wait for issue 2, I'll definitely be adding Arya to my pull list. (And between you and I, a coworker of mine is going to be in issue 2!) Give Arya a go if you love cute, feelgood shorts and supporting up and coming women in comics!
The Beautiful Death #1, Titan Comics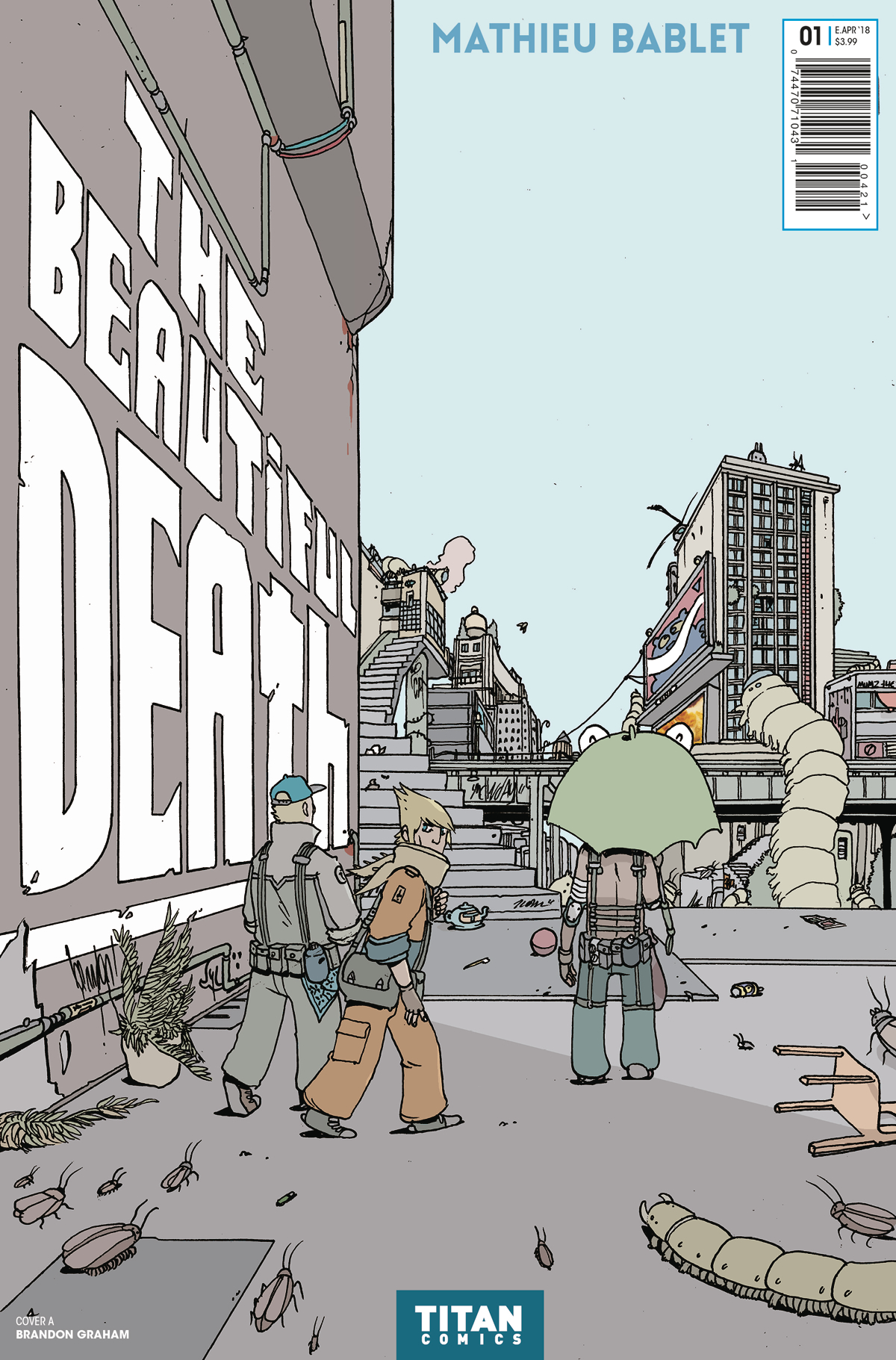 THE APOCALYPSE HAS BEEN AND GONE. THE AGE OF HUMANITY IS AT AN END. HORRIFYING INSECTILE ALIENS FROM THE DEPTHS OF INFINITE SPACE ARE NOW MASTERS OF THE EARTH! WHAT DOES RESISTANCE MEAN, WHEN THERE'S NOTHING LEFT TO FIGHT FOR? THAT'S WHAT WAYNE, JEREMIAH, AND SOHAM, THE ONLY SURVIVORS OF THE DEVASTATING INVASION, STRUGGLE WITH - SEEKING A GLIMPSE OF A FUTURE THAT JUSTIFIES THEIR FUTILE PRESENCE ON A RUINED WORLD. AS THEY PICK THROUGH THE REMAINS OF HUMAN CIVILISATION, KEEPING OUT OF REACH OF THE BUGS, NONE OF THEM SUSPECT THAT THEY ARE PART OF A MUCH LARGER PLAN, ONE THAT INVOLVES ANOTHER, UNKNOWN SURVIVOR...
I wasn't sure how I was going to feel about this book when I first saw it solicited. I am exhausted to death with post apocalyptic stories. However, this one charmed me. This book is one of the first comics being published under Titan Comics' new Statix Press imprint, which focuses on translating European comics to wider audiences. And make no mistake, this comic definitely has a European feel, from the pacing to the art. The writing conveyed a sense of dreary sameness to a world with nothing left in it and nothing to live for, but like a good food, the flavor was in the three main charactes. While they are often tense with one another and understandably so given the situation, they each have personalities that are begging to be fleshed out, especially Jeremiah, the light of hope who isn't willing to give up on finding more survivors. I think something that really made this book work for me is that the end happened several years ago (at least), it isn't pictures of death and destruction so much as it is a world left to abandon. The art was so different from what I'm used to in a post-apocalyptic survival story, and I think that really was a palate cleanser for me. I would genuinely reccomend this book for lovers of the genre, or people who are looking for something a little different from said genre.
Fu Jitsu #1, Aftershock Comics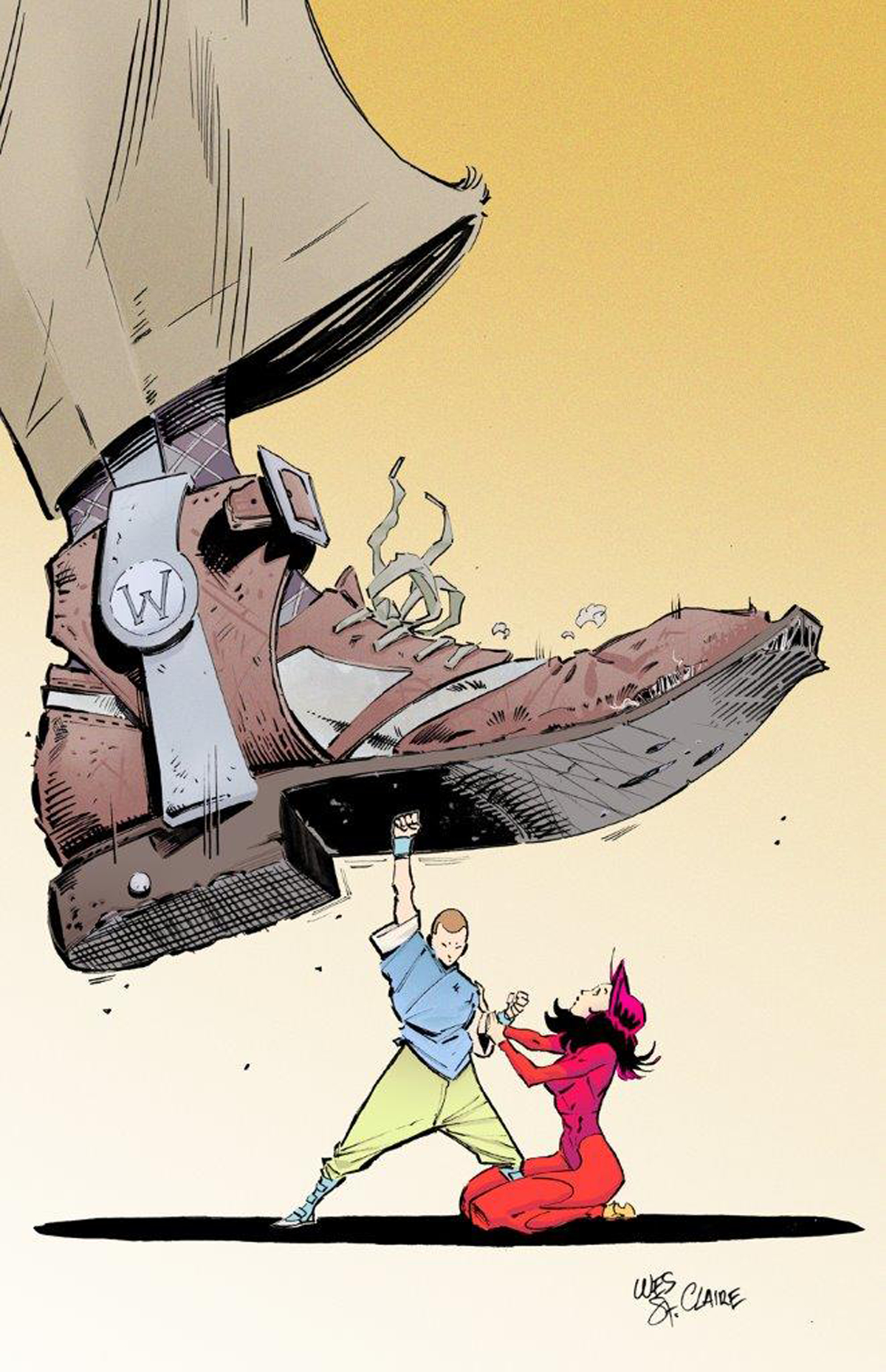 Fu Jitsu is the world's smartest boy, and has been for the last hundred years. Wait, what? Fu is an un-aging genius, and has had adventures around the globe and around the galaxy. From Einstein and the Wright brothers, to Gandhi and Johnny Unitas, Fu has met everyone in history while protecting Earth from Robert Wadlow, the world's tallest man, and his dangerous magi-science.
Fu exiles himself to Antarctica to try and forget the painful break up with his ex-girlfriend, Rachel. Meanwhile, Wadlow returns from the far-flung future and sends James Dean, his ultimate assassin, to kill Fu at the South Pole. And you though your teenage years were tough?
Fu Jitsu was a really fun read, from start to finish. I will be honest and say I didn't expect much going into it - I thought this was going to be a martial arts based story and not a lot else. However, if I was going to describe this story to someone, I'd say it's a little bit Avatar: The Last Airbender, a little bit League of Extraordinary Gentlemen or Hellboy, and a whole lot of humor. Nothing is too ridiculous for the adventures of Fu Jitsu, from legendary weapons across time to Cellular Kung-Fu (whjch is used to rapidly heal wounds). This isn't a super serious story, everything is over the top and fun and ridiculous, and I think that gives it so much charm and readability. In a series like this, I feel like, truly, anything can happen, and it honestly has me more likely to come back for issue two, to see what can possibly happen next!
Graveland #1, Scout Comics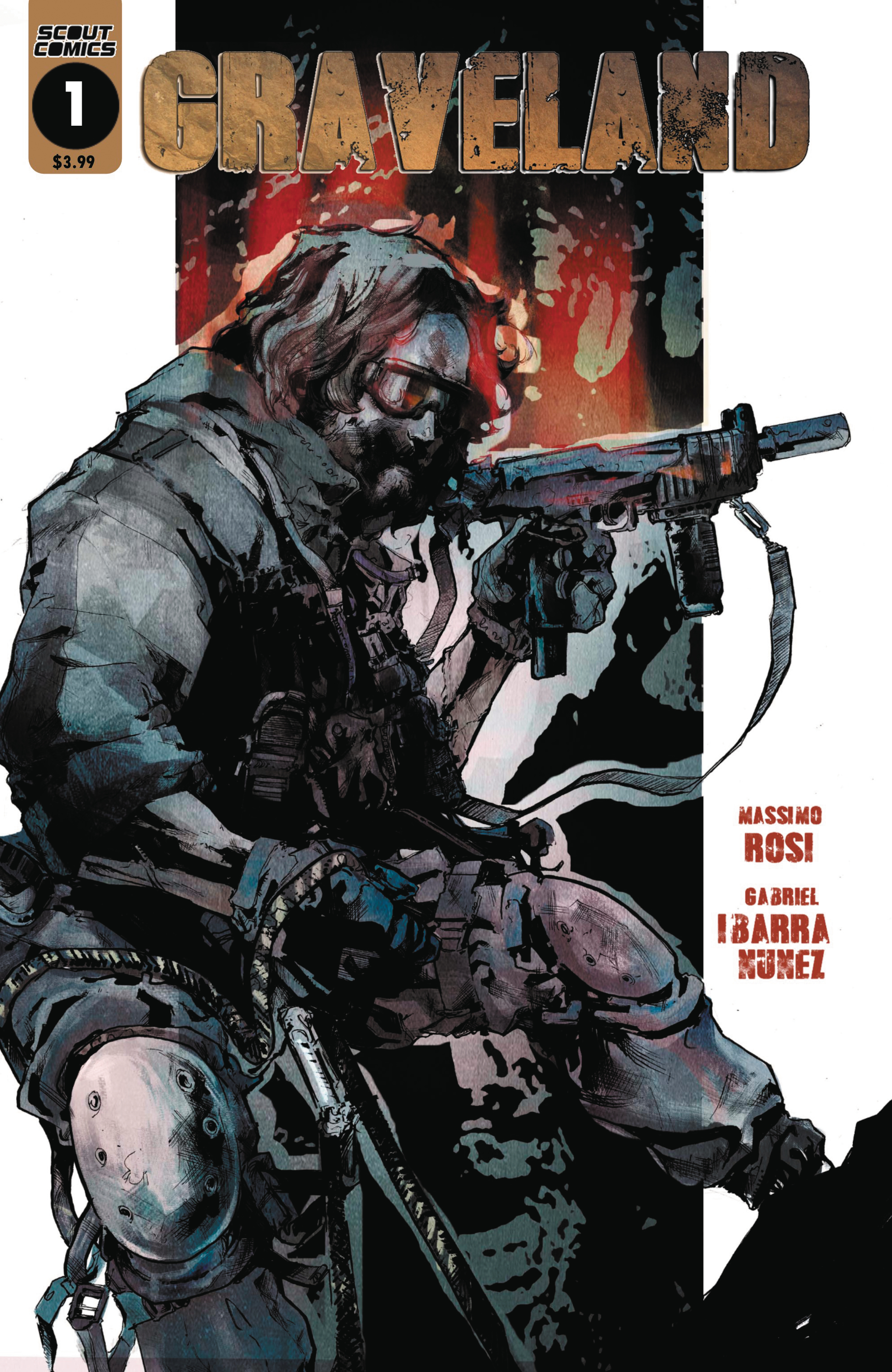 The San Andreas Fault finally has "the Big One," but not from natural occurrences. From the depths of the fault something emerges. Something of myth and legend that was mentioned in hushed tone by every ancient culture - giants, huge creatures from another time, awakened from the slumber and seeking to resume their conquest that has been delayed for a millennium. To mount a counteroffensive, the US government creates super-humans with an experimental serum. These four individuals may be the last chance for humanity as they are all the stands between civilization and the Giants!
So for all the things I enjoy every week, there is always one low spot. I honestly started reading this issue, got halfway through, and had to sit it down for a while. It just really did not do anything for me. I did eventually go back and read the rest of the issue, but I still maintain that of all the issues I read this week, this is the weakest one. Greaveland is a little bit of a mess for me. I think it is trying to do something like Pacific Rim but with superhumans, a similar concept to Generation Gone from Image comics, which some of you may remember form an earlier review I did. However Graveland has none of the character development and instead substitutes in deathes of characters that are so new as to have no impact on us, the reader. I like the color used in the book but the art in general is almost muddy, with it hard to distinguish what is going on, which is a big problem for a book where the story is already a little weak,and where the art might help it cary the plot a little. All said, it was difficult for me to follow the action and even distinguish what character I was supposed to be paying attention to from panel to panel. I'm not going to be checking out future issues of Graveland, I regret to say.
Short Order Crooks #1, Two Headed Press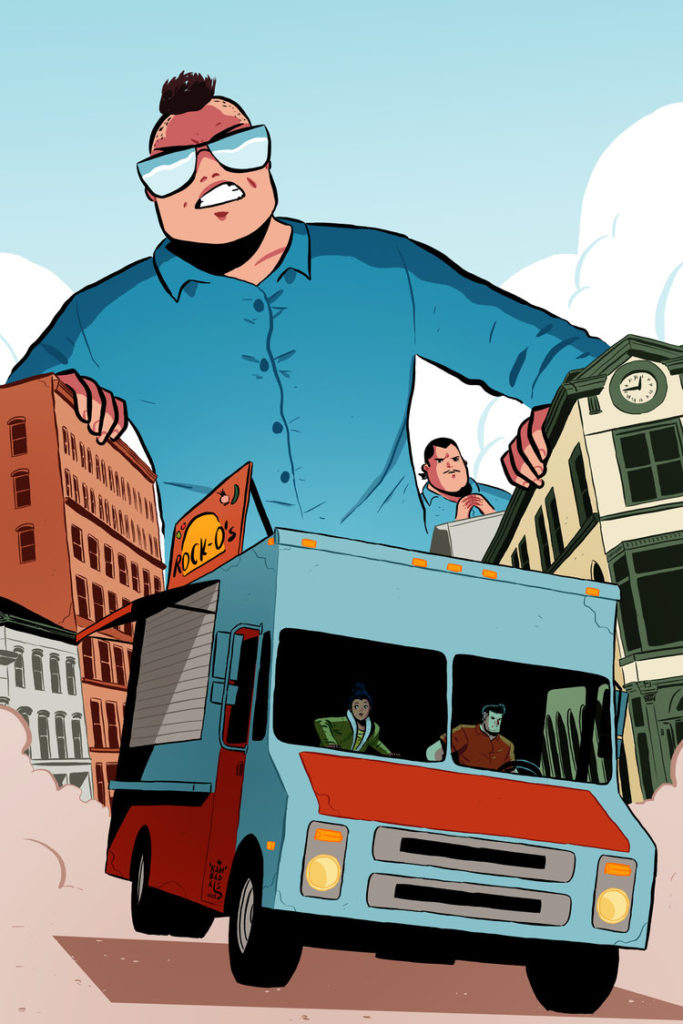 Rockwell Granger isn't exactly a bad guy. On the wrong side of 40 after turfing out of the military, he's drifted from town to town and a series of dead-end kitchen jobs and quasi-legal freelance work. But his longtime dream of owning his own restaurant has finally come true, back in his hometown of Portland. Rock should be happier than ever, but the reality of his dream has a nasty habit of dragging him down. His customers are uncultured savages, he's not making enough money to pay back his loan sharks and they're forcing him to do something morally iffy or they'll take his truck. And possibly his thumbs.
Some of the books I've talked about this week are from small publishers, but this one is SUPER small. As in, this book was kickstarted. Two Headed Press is an outlet for creators who had a story to tell, that didn't quite fit in with your standard Marvels and Images and Dark Horses - or they couldn't wait to put it out, so they did it themselves. Short Order Crooks is one of those stories. It follows Rocky, a man with a food truck, who gets in deep with the food truck mafia (I guess that is what you would call it?) of Portland. His business is far from booming, and in exchange for getting some info, the Bardem Bros (said mafiosos) will excuse $2000 of his debt. What he doesn't expect is meeting a young girl whose cooking savvy may turn his business around - and the real hazards of dealing with criminals when you feel like you have nothing left to lose. This is a cool little book, with solid writing and art. It reminds me a bit of The Fix in tone, and would be at home with most Image or Boom comics. I want to learn more about vegetarian cook Harper and see what kind of trouble she and Rocky can get into (or out of). Definitely recommend it, although it may not be available at most stores.
That's it for this week folks! There are, or course, other events going on (particulary with The Big Two, DC of course continuing its Metal event and with two stories featuring the mysterious Mr. Oz in both Detective and Action Comics, and Marvel kicking off Legacy #1 this week which they hope will turn around ongoing poor sales from the last few months and years. There's lots to discuss but I hope for now you've found something new to try!