If you look on the back of the trade paperback edition of God Country, where it would normally list a genre, the text reads "Epic Texan Battle Fantasy" and I can't think of a better description for this series than that, to be honest.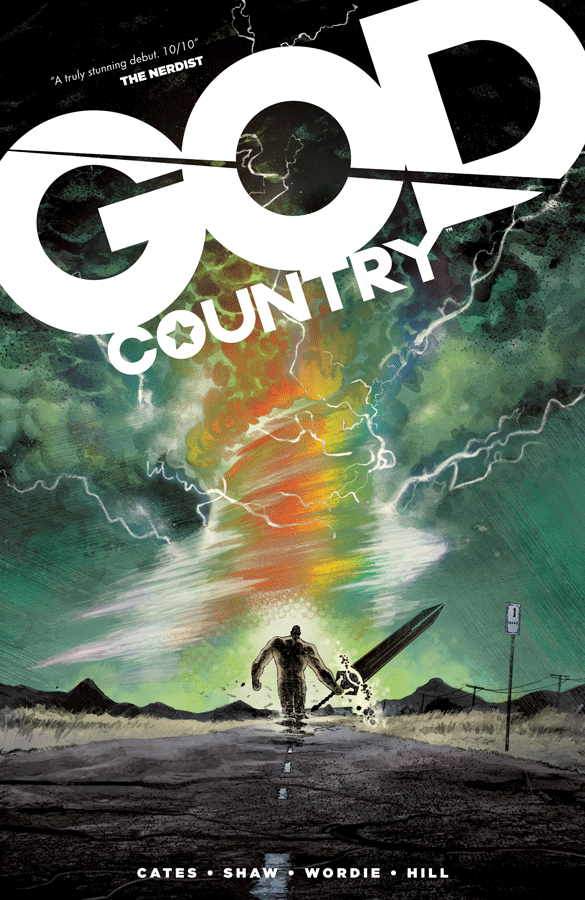 This week, the collected graphic novel of God Country came out, including all six issues of the miniseries. I had wanted to read the series when it was coming out, but the week the first issue was released, somehow I missed picking it up in my reading stack, and as fate would have it, we sold out right away and it went immediately out of print, meaning it took weeks for it to return to our shelves. At that point, I consigned myself to wait until the book came out, so I could catch up in one go. I didn't realize at the time it was a limited series, and while I'm a big proponent of the concept that not everything needs a sequel, or to drag on and on until it inevitably gets bad, I really really wanted more when I got to the end of this book.
God Country is about Emmett Quinlan, an elderly man in later stages of Alzheimers, and his family: Son Roy, Roy's wife Janey, and their daughter, Deena. Roy is struggling with watching his father deteriorating, becoming more and more aggressive and violent as the disease progresses, feeling helpless and obligated by blood to take care of him. Janey is frustrated with Roy's attitude, hating the sacrifices the family has made to help take care of Emmett, and feeling resentful at Roy's unwillingness to put his wife and daughter ahead of a failing old man.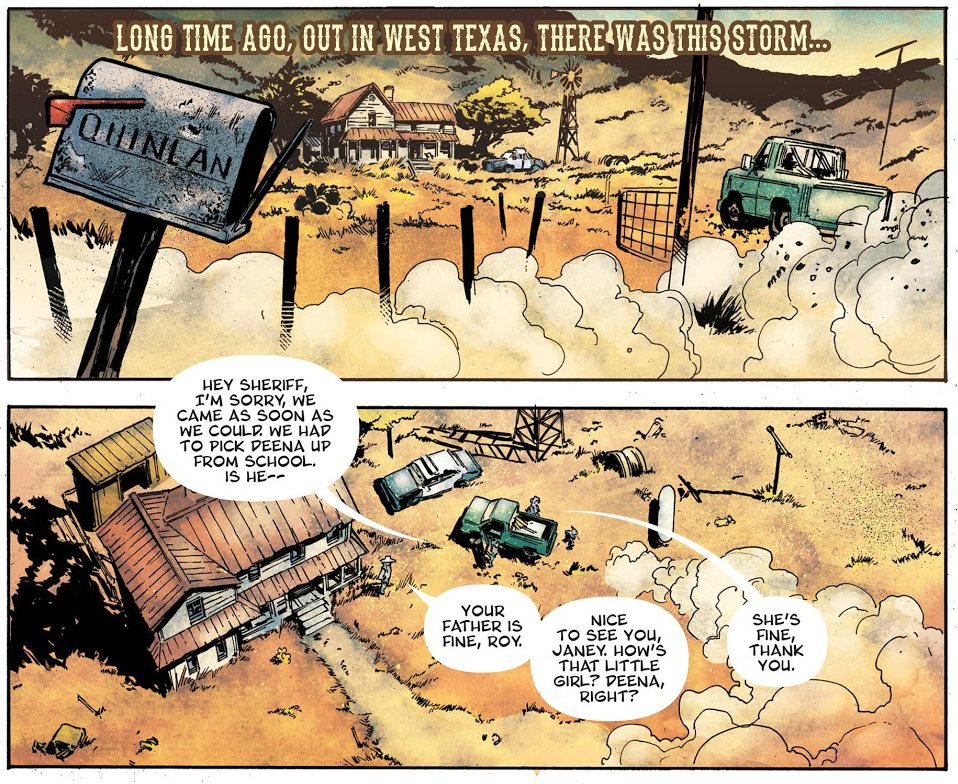 The family is called to the old Quinlan family house to check in on Emmett, as he left the property and had become violent with police officers trying to get him safely home. Tension is extremely high as the question of "what's to be done about Emmett?" looms over the family. What's more, the family home is suddenly destroyed by a tornado, bringing with it a demon from elsewhere -- another world, outer space, perhaps even another dimension -- and a sword to destroy it. But the sword isn't just any sword, it's the God of Blades, Valofax, and not only is it a wielder of incredible power, it's chosen Emmett for reasons unknown, and as long as the blade is in his possession, his clarity returns. Oh, and it can talk.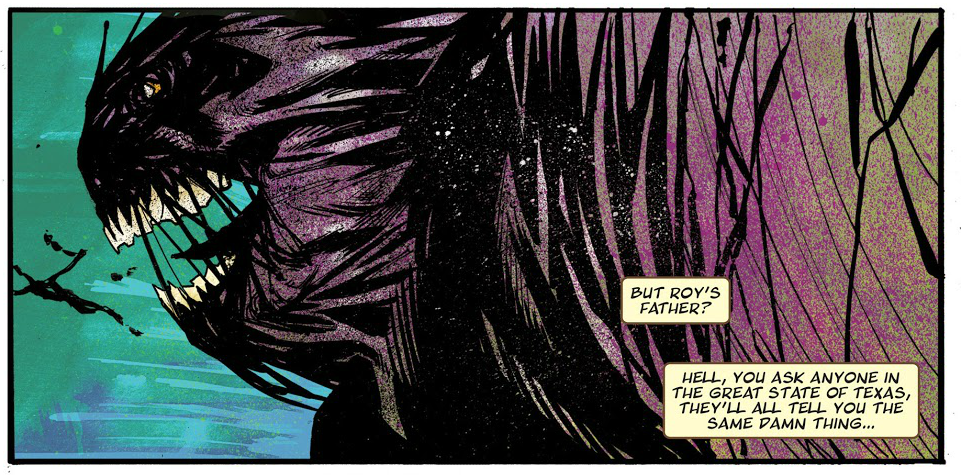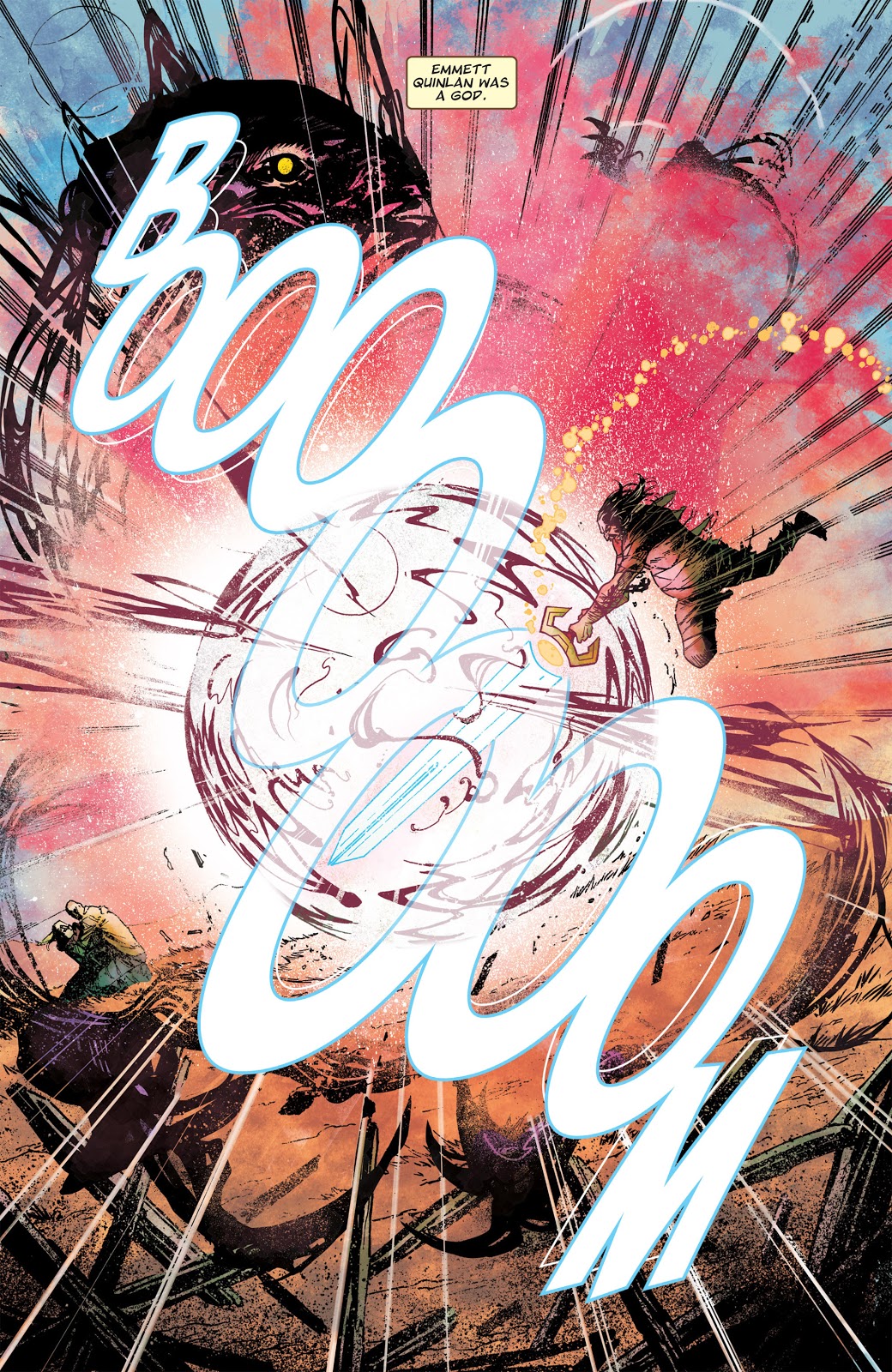 While this seems like a blessing from a higher power of some kind, it's only a matter of time before those hunting the sword, other gods claiming to return it to its rightful place, come to challenge Emmett. The book mentions other gods, worlds, and locations, making the universe this takes place in feel big and expansive, and was a big part of my feeling of wanting more - more powerful gods, more exotic locations, more the Quinlans.

What you don't get from the description of "Epic Texan Battle Fantasy" is how much heart is imbued in this book. As a reader, I felt for Emmett - while obviously, I've never suffered from Alzheimers, my heart went out to his struggle to hang on the memories of those he loves and all the moments he has lost. I also felt for Roy, and the complex emotions he feels for his dad and how to handle his dad's illness - I watched my own dad go through something similar with my grandfather, who deteriorated over a period of years before passing away about a year ago. This book is the definition of bittersweet, and I'd be lying if I told you I didn't tear up a little by the end.
Also worth noting is the art, and while I'm only taking a moment here to address it, it's so important to the storytelling of this book. The colors set the mood so well throughout, and the Quinlan family looks like people we all know, could be neighbors, co-workers or friends. The style makes the Western setting work so well with all the fantasy elements, and the designs for all the gods (including Valofax, even though he's just a sword) are perfect to me.
It's about holding on to what's most important but also it's about learning to let go when it's time; it's about complicated family relationships, and the legacies we leave behind; it's about gods and mortals and magic.
Check out God Country at your local comic shop or online here!